The loved by many and long awaited Christmas time is fast approaching! This year's Christmas break for the students of Collegium Medicum is scheduled from 22 December 2018 until 2 January 2019.  Find out how the observation of Christmas in Poland differs from that in your home country.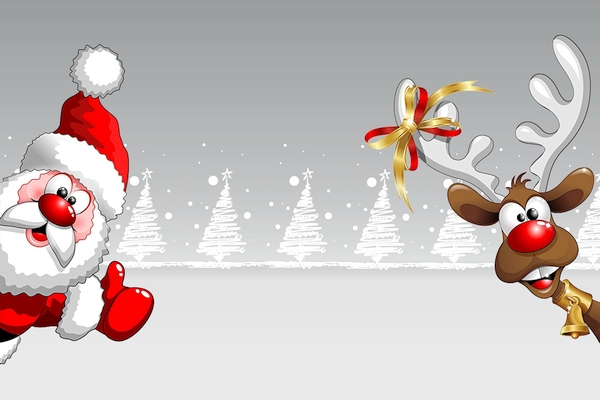 The loved by many and long awaited Christmas time is fast approaching. This year's Christmas break for Collegium Medicum students is scheduled from 22 December 2018 until 2 January 2019.
If you happen to wonder if or how the observation of Christmas in Poland differs from that in your home country, you are more than welcome to read the short description of our customs below.
Important dates
24th December – Wigilia (the Christmas Eve) – in Poland, it is a regular working day, but shops, administration offices and other institutions are usually closed earlier than normal, so that everyone can go home and prepare for the Christmas supper. The day of Wigilia ends with Pasterka – a special midnight Mass offered at every local church.
25th and 26th December – the so-called "first and second holiday" – both days are official public holidays, so schools, shops, banks and other public institutions are closed; public transportation schedules also change to the holiday mode (buses, trams, etc. go less frequently). It is a time for people to enjoy Christmas in a peaceful atmosphere, pay visits to other family members, and to religiously celebrate the birth of Jesus.
1st January – the New Year's Day – the first day after Sylwester (the New Year's Eve) and the beginning of the carnival period. This day is a national public holiday in Poland, so shops, offices and other public institutions are closed.
6th January – Trzech Króli (Epiphany) – a Christian feast day which commemorates the visit of the Three Kings to baby Jesus. This day is also a public holiday, so shops, schools and other public institutions are closed.
  CHRISTMAS IN POLAND  

Christmas tree and decorations
In Poland, Christmas trees are usually decorated a few days before Christmas. The ornaments used are no different from those used all over the world and include Christmas balls, colourful lights, tinsels, angels and suchlike. The tree is traditionally topped with a star to symbolise the Star of Bethlehem which guided the Three Kings to where Jesus was born. It is not, however, only the tree which is decorated, as Christmas ornaments in the form of wreaths, figurines, bells or candles are usually placed here and there to adorn the whole house. Christmas stockings or candy canes do not belong to the Polish tradition, though the latter are similar to our "candy icicles" which are often hung on Christmas trees.

Presents
In the Polish tradition, Christmas presents are usually placed under the tree on the day of Christmas Eve. After the Christmas supper, children are asked to go to their rooms and watch through the window for Santa carrying a bag of gifts. They are then called back only to find out that they must have failed to notice him, but their sadness disappears the moment they see that the Christmas presents are already waiting for them under the tree. Another tradition is having a relative (usually a grandfather or an uncle) dress up as Santa Claus and deliver presents directly into children's hands.

Traditional dishes
The choice of dishes eaten in the Christmas period varies among cultural regions of Poland. Leaving aside the cultural borders within the country, the list of most popular Polish Christmas dishes includes, among other things:
carp, herring, trout, cod, halibut (or other types of fish) – prepared hot or cold, according to regional recipes;
red borscht (beetroot soup) with uszka (small ravioli-like dumplings) or patties – stuffed with chopped dried ceps, cabbage, onion, or minced meat; instead of borscht, some regions prefer mushroom soup, fish soup or żurek (a sour rye soup);
pierogi (semi-circular dumplings) with various fillings, traditionally: minced meat, sauerkraut, cabbage, mushrooms, potato mash, white cheese, or sometimes fruit; bigos (a stew made from white cabbage, sauerkraut, various cuts of meat and sausages) or gołąbki (minced meat, chopped onions, and rice or barley all wrapped in leaves of boiled cabbage);
dried fruit compote – a beverage made from dried and smoked fruit, usually plums, apricots, apples or figs;
poppy seed cake, makówki or kutia (deserts based on poppy seed, honey, milk or cream, various nuts, sometimes raisins), fruitcake, cheese cake, ginger cake.

Christmas supper
In Poland, families gather at the table on Christmas Eve. The meal begins by sharing opłatek (a thin Christmas wafer) with other family members, accompanied by exchanging wishes or a joint prayer. The Christmas supper is usually followed by singing carols and the joyful activity of opening Christmas presents. Many Polish families observe the custom of putting one additional place setting on the table for an unexpected visitor who might come around.

Christmas glossary
A few important words and expressions that you may come across at and around Christmas in Poland:
Christmas – Boże Narodzenie
Merry Christmas! – Wesołych Świąt!
Christmas Eve – Wigilia
Santa Claus – Święty Mikołaj or Gwiazdor
Christmas carol – kolęda
Christmas tree – choinka
present – prezent
New Year's Eve – Sylwester
Happy New Year – Do siego roku!