Bydgoszcz is the 8th largest city in Poland and the capital of the Kuyavian-Pomeranian Region. It has about 350 thousand inhabitants, nearly 10% of whom are students. The city has a lot to offer to both residents and visitors. Legend has it that the name of the city of Bydgoszcz derives from the phrase "be our guest". Thus, the open gates in the city's coat of arms symbolise hospitality and a warm welcome of its inhabitants.
There are several universities and colleges in Bydgoszcz, which makes students a substantial percentage of the city's population. Pubs and clubs, cafés and restaurants, galleries and museums, parks, stadiums, cinemas and theatres, an opera and a philharmonic – there are so many alternatives that you will never have to wonder how to spend your leisure time. Groups of students roaming the streets of the picturesque Old Market Square or the numerous modern shopping centres are a common sight in Bydgoszcz.
Wyspa Młyńska – also called the Little Venice – is one of the most enchanting and picturesque places in Bydgoszcz. Located on the bank of the Brda River and ringed by renovated historical buildings and granaries, it hosts numerous festivals, concerts and fairs, which makes it a centre of leisure activity.
Bydgoszcz is famous for hosting numerous musical festivals and events. Classical music lovers can enjoy the events organized by the Pomeranian Philharmonic or Opera Nova – the State Opera Establishment in Bydgoszcz, such as Musica Antiqua Europae Orientalis, Bydgoszcz Opera Festival, Bydgoszcz Musical Impressions, Paderewski International Piano Competition, and many others.
If you're hooked on sports, there are well over a hundred sports facilities you can visit, such as athletics and football stadiums, modern sports and entertainment halls, tennis courts, indoor swimming pools, and even a speedway track.
Bydgoszcz boasts its green spaces. Myślęcinek – the Forest Park of Culture and Recreation – is one of the largest recreation areas in Poland and includes such attractions as a horse riding centre, a high ropes park, a zoo, botanical gardens, a skate park, and many more. Myślęcinek, also called the 'green lungs of Bydgoszcz', is a place that hosts picnics, festivals, concerts and various competitions.
More information about our lovely city can be found on the website of the official city guide – Visit Bydgoszcz.
Bydgoszcz in numbers (as of 2019):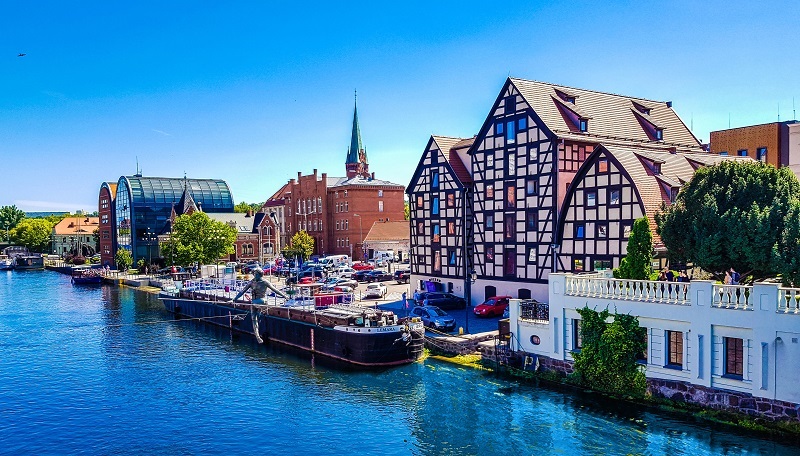 | | |
| --- | --- |
| First trace of settlement: | 8000 BC |
| Municipal charter granted in: | 1346 |
| Area: | 175.98 km2 |
| Elevation: | 60 m above sea level |
| Population: | 350,178 |
| Population density: | 1,190 people per km2 |
| Sister cities: | 12 cities on 3 continents |
| Total length of roads/streets: | 736.8 km |
| Total length of cycling routes: | 85.6 km |
| Area of the Myślęcinek park: | 830 ha |
| Number of hotels: | 31 |
| Number of hospitals: | 14 |
| Number of primary and secondary schools: | 205 |
| Number of higher education institutions: | 10 |
| Number of business entities: | 42,299 |